Soft Loop plastic bag is the ideal choice for clothing, footwear, giftware / glassware, toys, electrical / electronics, optics, home use and any other business looking for durability and maximum capacity.
Both the plastic bag and the soft loop handle are characterized by great color and material combinations, deservingly positioning it among our Premium Series. Fitting equally perfectly to both classic brands and those with a modern touch, soft loop bags are ideal for stores that wish to offer originality, durability and maximum usability to their customers. Thanks to the side and bottom gussets, a soft loop bag suits anyone who wants extra advertising and storage space for their products.
One of the main features of the Soft-Loop bag is its ecological contribution. Made with absolute sensitivity and respect for the environment, this reusable bag carries an ecological message as it is made of 100% recyclable materials. Depending on the style you wish to promote, it's produced either from high-density polyethylene (HDPE) with a matte appearance, or low-density polyethylene (LDPE) with an impressive glossy texture.
ORDER YOURS!
.
WE DESIGN FROM THE PRINCIPLE OF THE BAG
FIT THE NEEDS OF YOUR BUSINESS
DIMENSION | PRICE | PRINT |COLORS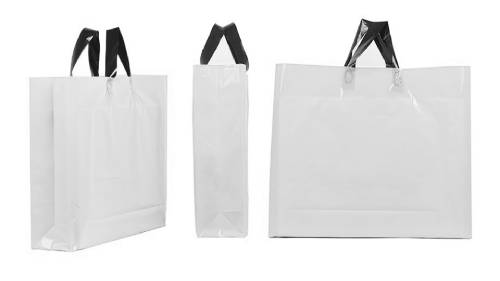 Color and material combinations feature both the plastic bag and the soft loop handle
Creating a printing press on each side, the choice of plastic bag with soft loop handle is ideal for anyone who wants extra advertising and useful storage space for their products.
Research has shown that packaging and packaging products have the power to bring about a real change in your brand image. To bring your products to the market in character and dynamism, our team recommends plastic bags in multiple dimensions, colors and designs at the best prices in the market. Select Soft loop plastic bag. Made from 100% recyclable material, you can give your bag a striking shiny shape or an elegant matte look.
PORTFOLIO | SOFT LOOP
.
BRANDED SOFT LOOP PLASTIC BAGS